Coastal Yachtmaster/Yachtmaster Offshore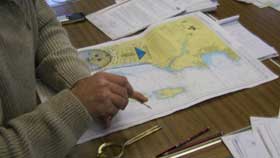 This is an advanced course in navigation and meteorology for candidates for the Coastal Yachtmaster and Yachtmaster Offshore Certificate. The syllabus makes some provision for revision of subjects in the Day Skipper course but those who have not acquired the knowledge set out in the Day Skipper Course are unlikely to be able to assimilate all the subjects covered in this advanced course in the time available. The assumed level of knowledge before starting this course is the Day Skipper shorebased course.

The syllabus includes: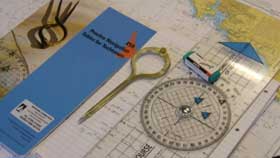 • dead reckoning and estimated position, position fixing
• magnetic compass, variation and deviation
• tides and tidal streams, tidal heights at secondary ports
• buoyage, lights and pilotage
• GPS and chart plotters
• boat instrumentation
• meteorology
• International Regulations for the Prevention of Collision at Sea
• safety at sea, fire fighting, liferafts, helicopter rescue
• navigation in restricted visibility
• passage planning and making
• protecting the environment

This course normally takes a minimum of 40 hours study time. The complete syllabus is contained in the RYA publication G15 - RYA Sail Cruising Scheme.
This course is available in four study options:
• an evening class, October to March 2009/10
• three weekends intensive study - January to March 2010
• six days intensive study - see dates below
• distance learning option - may be started at any time of the year.
View dates for the 2009/10 classes.
The distance learning course is a mixture of work done at home interspersed with tutorial visits to our teaching base in Troon Yacht Haven. It is not designed yet as a pure correspondence course.