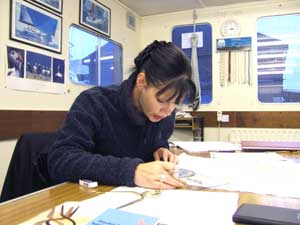 Competent Crew / Day Skipper
This is the entry level course of the three shorebased courses and as such is suitable for the complete beginner to sailing and motorboating. It is also suitable for dinghy sailors wishing to move on to keelboats or cruisers and for divers wishing to learn the basics of chartwork to enable to find their way to more remote dive sites.
The syllabus includes the following:
• nautical terms - parts of a boat and hull - nautical terminology
• ropework - ability to tie common knots, bends and hitches
• anchorwork - types of anchor - how to anchor securely
• safety - personal and boat safety, use of harnesses and lifejackets
• International Regulations for the Prevention of Collision at Sea
• navigational instruments, charts and publications
• general chartwork - steering a course and distances
• tides and tidal streams - heights of tide
• meteorology and passage planning
• navigation and pilotage in poor visibility
• protecting the marine environment

This course normally takes a minimum of 40 hours study time. The complete syllabus is contained in the RYA publication G15 - RYA Sail Cruising Scheme.
This course is available in four study options:
• an evening class, October to March
• three weekends intensive study
• five days intensive study
• distance learning option - may be started at any time of the year.

View dates for the 2009/10 classes.

The distance learning course is a mixture of work done at home interspersed with tutorial visits to our teaching base in Troon Yacht Haven. It is not designed yet as a pure correspondence course.