Yacht Charter
( CLICK ON THE LINKS BELOW TO SEE A SELECTION OF WHAT WE HAVE AVAILABLE )
A fleet of yachts from 23 to 49 feet, all available with or without a skipper as required, allows you to explore the sailor's paradise that is the Firth of Clyde.
Whether entertaining clients, rewarding staff loyalty or team building a sailing charter provides the right atmosphere.
Skippered sailing suitable for all the family.
Skippered or Self Sail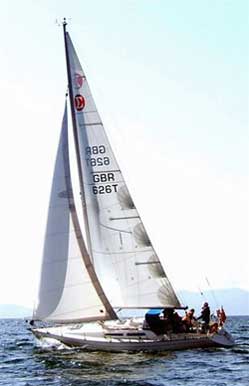 • bareboat and skippered charter
• yachts from 23' to 49' upward available
• superbly equipped
• Corporate Charter
• weekly, weekend and daily rates available
• cheap flights into Glasgow and Prestwick
• sail the Firth of Clyde, Ireland, West Coast
• St Kilda and even Rockall 2003
Experience Required: Charterers should be experienced to the level of RYA Day Skipper or equivalent. If no paper qualifications are held, evidence of previous chartering experience is necessary. Charterers wishing to cruise beyond the Firth of Clyde area should be experienced to Coastal Skipper or Yachtmaster level.
Car Parking: There is secure parking on site as the car park is adjacent to the Yacht Haven office which is manned 24/7.
Provisioning: There is a Morrison's supermarket half a mile from the Yacht Haven which is open until 8.30pm most evenings. If you are arriving late we may be able to do your shopping for you and stow it aboard. Details on application.
Equipment Hire: We have all of the following available for hire:
• oilskins
• sailing wellies
• sleeping bags
• pillows

Corporate Charters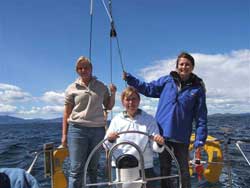 Corporate days afloat provide the perfect platform to entertain guests or clients or to reward staff loyalty. It is an ideal situation to relax and enjoy the scenery and wildlife if you need just the 'chill' factor. Outdoor activities have long been recognised as an ideal medium for team building, staff motivation and leadership training. Sailing offers all these opportunities. For something more challenging we can tailor a package to task the adventurous! Maritime Connection's corporate packages are generally either a single day or a weekend in duration. A single day charter would usually begin around 9am with coffee followed by a safety briefing before setting sail. Of course, the weather governs the decision about where to go, but one of the wonderful features of the Firth of Clyde is the fact that there are so many potential destinations that it really doesn't matter which way the wind is blowing, it will always be an ideal breeze for one of the ports of call.
Family Sailing
This is a low cost course for families wishing to learn or improve their sailing skills. The courses can be run at differing levels of competence to suit the individuals concerned. Families have exclusive use of the yacht and our Instructor at a price that is not too hard on the pocket. Children have great fun learning to tie knots, helm for a while or do some sail work. On our family days there's something for everyone.