Short Range Radio Certificate Course (SRC)
We are a training centre, authorised by the RYA, to conduct the Short Range Certificate (SRC) courses and examinations. If you intend to use a marine radio you must obtain an Operator's Certificate of Competence which is achievable after attending our one-day training course. The course is very practical in nature and uses a series of four Icom M421 DSC training radios in a variety of simulations. You will spend the greater part of the day in very realistic scenarios learning how to send and receive both voice and digital messages, Securite, Panpan and Mayday calls.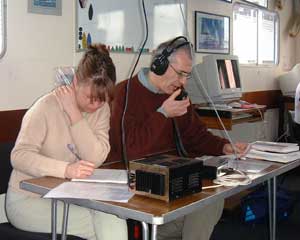 Those who do not possess any form of radio operator's certificate of competence will need to attend a one-day training course to gain the full certificate.
Alternatively you may go for a direct examination for the SRC certificate, which consists of a written examination followed by a practical test. Here at Maritime connection we strongly recommend attendance at a training course where a method of continuous assessment is used throughout the day.
An authority to operate will not normally be issued to any person under the age of 16 years.
The syllabus includes the following:
• knowledge of the VHF maritime mobile service
• working knowledge of radio equipment
• operational procedures in GMDSS
• operational procedures for VHF communications
• use of Emergency Position Indicating Radio Beacons (EPIRB)
• use of NAVTEX receivers
• use of Search and Rescue Radar Transponders
Assessment is continuous throughout the day.
Telephone for an application form.